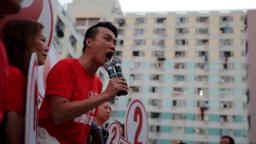 A group of protesters leave the Hong Kong Polytechnic University holding hands before surrendering to police in the Hung Hom district on November 22.
Protesters use clothes and helmets to form "SOS" at Hong Kong Polytechnic University on November 21.
Protesters raise their hands to represent the five demands of pro-democracy demonstrators during a rally in support of the Hong Kong Human Rights and Democracy Act in the U.S., at the IFC Mall in Hong Kong, on November 21.
Tables and chairs piled up to create a barrier are seen leftover from protesters who barricaded themselves inside the Hong Kong Polytechnic…